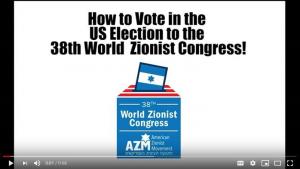 The 2020 World Zionist Congress elections are here!
This election is your opportunity to make progressive American Jewish voices heard in Israel, and to give support to progressive Israelis who are fighting for democracy, equality, and renewed peacemaking in their beloved country.
Reconstructing Judaism is partnering with the Union for Reform Judaism in support of the ARZA slate in this important election. If you're 18 or older and a Jewish-American, you are eligible to vote. Voting is happening online now, and continues until Mar. 11, 2020. Now is the time for you to visit www.zionistelection.org and follow the steps to cast your vote. The whole process takes 90 seconds, though it does include a series of steps. It's worth the effort!
For more information about the election and the ARZA slate, please go to https://www.reconstructingjudaism.org/israel/arza-2020 first.
Remember, TO VOTE NOW, please go to www.zionistelection.org.
Thanks for your vote and please pass on the information to your friends and family! (No matter who they vote for!)