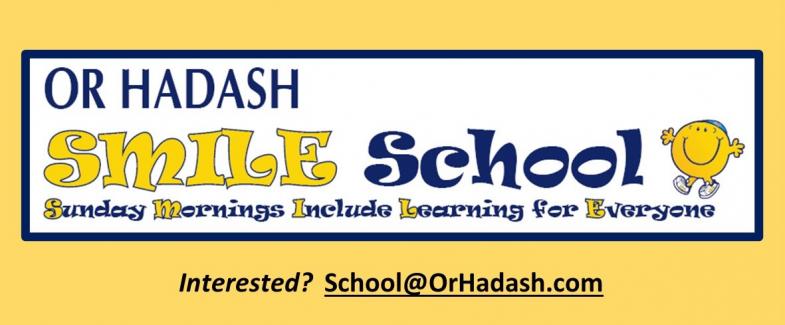 The SMILE School is a vibrant program in which our children explore being Jewish in fun and meaningful ways. The school's devoted, enthusiastic teachers - many of whom are congregants and parents of SMILE students - cultivate a friendly and warm environment in which each child is known and nurtured. We introduce our youngest members - as well as their families - to Jewish values, culture, history, rituals, and language through a wide array of dynamic and creative modalities.
Students begin attending the SMILE School as early as PreK and we are committed to keeping our youth engaged all the way through confirmation, which includes 10th - 12th graders. Like Or Hadash as a whole, the SMILE school is committed to welcoming people of all backgrounds, including interfaith families, LGBTQ individuals, and people of all races, ethnicities and abilities. The children who grow up in our community are nurtured and celebrated as they mature and reveal themselves in all their wonderful, complicated glory. Our school is big enough to support diverse students, yet small enough that we customize our program according to their needs and passions.
We understand Judaism as a CIVILIZATION. In addition to religious belief and practice, Jewish civilization includes art, music, food, language, literature, ethics, social justice and more. Jewish people live in MULTIPLE CIVILIZATIONS today and we encourage children and families to bring their "whole selves" to class. Accordingly, we also reject the traditional idea of Jewish chosenness.
We believe that Judaism's longevity is a tribute to its ability to evolve as Jewish people dance with the wider world in which they live and, accordingly, we embrace that process. We teach everyone to give Jewish tradition "A VOTE, NOT A VETO," exploring which aspects of our Jewish civilization resonate with us and why or why not. We invite one another to question traditional Jewish conceptions of God as we explore what we understand as divine and what inspires us to live lives imbued with holiness.
Our K - 6th graders participate in classes on Sunday mornings from 9am - 12:30pm. Students also join us for an ascending number of Shabbat, holiday and life cycle events annually.
Our 5th & 6th graders also participate in Mensch* to Mensch, "M2M," our intergenerational Hebrew Program. Our students meet with their adult mensches between Sunday sessions to build their Hebrew and prayer skills and build warm relationships.

Our Prosdor ** Program 7th - 9th graders meet on Sundays from 11:15am - 1pm. The program supports their transition from the traditional school program to the teen program and the new understanding of Jewish identity that comes with becoming B'nei Mitzvah. ***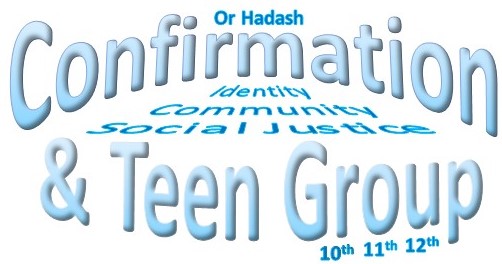 Our 10th - 12th graders create our Confirmation Experience with two adult facilitators and our Rabbi. The teens meet twice a month at mutually convenient times / locations. Together, the teens identify and explore the most compelling and challenging issues facing our community and our society. They delve deeply into each issue with a focus on their own evolving identity as Jewish humans and on social justice. The Confirmation Experience typically culminates in a trip as well as a special celebration designed by the group.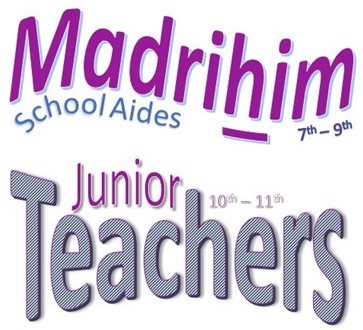 Many of our teens support our younger students' Jewish education from 9 - 11:15am before their own class on Sundays. Madrihim*** and Junior Teachers lead games & crafts, set up technology, support individual students, create skits, help in the office, take pictures, decorate bulletin boards, plus other roles to be imagined by THEM! Rabbi Erin meets with Madrihim & Junior Teachers each Sunday from 10:45 - 11:15am to reflect on the morning & plan for the next session. All Madrihim & Junior Teachers can earn Community Service Hours. Those in 8th grade can opt to be paid for their work in the school.
Or Hadash's unique building and campus are the perfect home for our distinctive Smile School. As the children share the space, hang their art on the walls, cultivate the land, and play inside and out, their sense of belonging grows . . . both to Or Hadash and to Judaism itself.
* Mensch is a Yiddish word that literally means "person," but which carries the connotation of a good person or a solid citizen.
** Prosdor is a Hebrew term meaning "Corridor."
*** The terms B'nei Mitzvah / Bat Mitzvah / Bar Mitzvah/ B-Mitzvah all refer to a lifecycle event celebrating our young people as they learn to lead a prayer service, engage with the Torah and performing Mitzvah projects.
**** Madrihim are school aides, with the word meaning those who leads the way.
***** Shavuot is a spring holiday celebrating the gift of Torah.