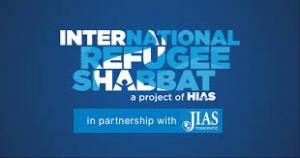 Please join us for a special Refugee Shabbat on Friday evening March 5 at 7 pm. We will welcome Dr. Carol Gantman, President of the Board of HIAS Pennsylvania and Attorney Cathryn Miller-Wilson, Executive Director of HIAS Pennsylvania. Dr. Gantman's presentation will include the story of an asylum seeker from Sierra Leone who had a positive outcome. Ms. Miller-Wilson will give us an update on the current immigration situation, changes expected under the Biden administration and how we can get involved.
Please note earlier start time of 7:00 pm.
Click on the attached file below for an event flier.