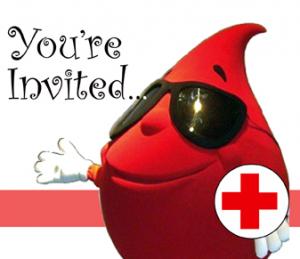 OUR BLOOD DRIVE IS SO IMPORTANT NOW!
"You can still go out and give blood. We're worried about potential blood shortages in the future. Social distancing does not have to mean social disengagement." U.S. Surgeon General
There is no known end date in this fight against coronavirus, and the Red Cross urgently needs the help of blood donors and blood drive hosts to meet the needs of patient care. Please schedule your next donation appointment now to help prevent another blood shortage. For a limited time, the Red Cross will test all donations for COVID-19 antibodies as an additional health service to our donors. The Red Cross hopes testing will provide critical insight into whether donors may have possibly been exposed to this coronavirus, as some COVID-19 carriers can be asymptomatic. They are committed to helping others in meaningful ways during this pandemic. Donating blood is essential to community health and the need for blood is constant. As part of our nation's critical infrastructure, healthy individuals can still donate in areas that have issued shelter in place declarations or are operating under a phased reopening plan. There are no data or evidence that this coronavirus can be transmissible by blood transfusion, and there have been no reported cases worldwide of transmissions for any respiratory virus including this coronavirus. The Red Cross only collects blood from individuals who are healthy and feeling well at the time of donation. The Red Cross follows the highest standards of safety and infection control, and volunteer donors are the only source of blood for those in need. As hospitals resume surgical procedures and patient treatments that were temporarily paused due to the COVID-19 pandemic, donors are urged to give now to ensure blood products are readily available for patients.
At each blood drive, Red Cross employees follow thorough safety protocols, including: Wearing gloves and changing them often; Wiping down donor-touched areas after every collection; Using sterile collection sets for every donation; Preparing the arm for donation with aseptic scrub; Conducting donor mini-physicals to ensure donors are healthy and well on day of donation.
They have also increased their vigilance concerning some of these safety protocols including: Enhanced disinfecting of surfaces and equipment; Providing hand sanitizer for use before entering and throughout the donation appointment; Temperature checks before presenting donors enter the blood drive or donation center; Following social distancing practices between donors including donor beds, as well as waiting and refreshment areas; Staff wearing basic face masks. For the safety of our donor community and in accordance with CDC guidelines, all donors are required to wear a face covering or mask. Please bring a face covering or mask to your donation. If you do not have one, a mask will be provided to you. To ensure their staff are healthy each day, they have implemented standard staff health assessments prior to all blood drives.
The Red Cross needs our help to ensure enough blood is on the shelves for patients in need. If you are healthy & well, join us on January 17 from 8:30 am to 1:30 pm in the sanctuary. Sign up now: rcblood.org/app. Please click on the attached document below for the Volunteer Document from the Red Cross, so you know what to expect and to answer questions you may have.