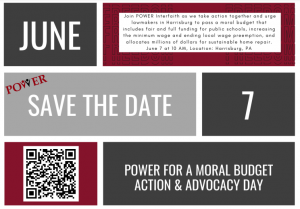 The Anti-Racism Task Force has been working with the organization POWER Interfaith on the issue of inequitable funding of public schools in Pennsylvania which affects students of color disproportionately. POWER Interfaith is composed of over 50 congregations in our area as well as statewide. POWER is proposing a Moral Budget to the Pennsylvania Legislature that will provide full and fair funding of all public schools, level up funding to the one hundred poorest schools and funding for toxic schools repair and more.
To this end POWER has organized an Advocacy Day in Harrisburg on June 7. Buses and meals are provided as well as an online training ahead of the trip May 31st at 6:30. This is a great opportunity for people to make a difference!
To find out more about Advocacy Day in Harrisburg click here. Email sato@orhadash with questions.