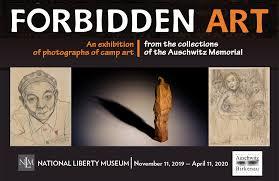 Stay tuned for rescheduling information, hopefully in a few weeks!
Or Hadash is visiting… the "Forbidden Art" exhibition at the National Liberty Museum
The Holocaust Education Committee and SMILE school Education Director have a trip set up for middle and older school students, parents and other interested congregants to go and see the Forbidden Art exhibit, art made at Auschwitz. The group will be meeting at 10:45am in the museum lobby for a guided tour that starts at 11:00.
The fee is $11 per person which includes a guided tour. Students and teachers will be sponsored.
Please click on the attached file below for an event flier.
Contacts are Barbara Weisman and Dan Schwarz.