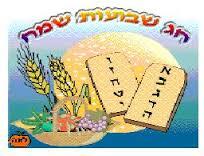 Please be present as we join as a community to celebrate the festival of Shavuot on Sunday evening, May 16th at 7:30 pm. The evening begins with a short service at 7:30 pm. At 8:00 pm there well be a choice of three presentations on how modern Jewish thought leaders interpret the giving of the Torah at Mount Sinai. These presentations offer a mature, "adult way", of viewing the interaction between God and mankind at Mount Sinai and are not to be missed! Our three speakers will be Rabbi Maurice Harris, Marty Jacobs, and Rabbi Alanna Sklover. Descriptions from them are offered below. The second session at 9:00 pm will be a celebration of Shavuot through art (led by Suzanne Caster) or music (led by Rabbi Alanna and Andrea Jacobs). Descriptions from them are also offered below.
Here is the evening's schedule, followed by the descriptions of the choices offered:
7:30-8:00 PM - Shavuot service
8:00-8:45 PM - First Session. Presentations on Revelation, the giving of the Torah at Mount Sinai (choice of three)
8:45-9:00 PM - Break with Rabbi Alanna
9:00- 9:45 PM - Second session. Celebration of Shavuot through art or music.
9:45-!0:00 PM - Concluding remarks hosted by Rabbi Alanna
Rabbi Maurice says - "It has been 30 years since Prof. Judith Plaskow's masterwork, Standing Again at Sinai: Judaism from a Feminist Perspective, opened many doors to people who had previously not found a way to synthesize conflicting parts of their identity as Jews, feminists, progressives, etc. Plaskow's work was a courageous and clear articulation of a contemporary Jewish theology that finds value in the tensions and dialogues that take place between traditional Jewish and feminist beliefs and practices. As a young rabbinical student, and even as a straight cis-gendered male, Plaskow's book gave me new language for ways of understanding God that drew on elements of midrash and feminist theory with honesty and tenderness. Her ideas about how to approach core theological concepts of Judaism, such as kedushah (holiness) and kehillah (community), supported my own growing Reconstructionist sense of the Divine and of the possibilities of a meaningful, progressive Judaism. I'm excited to present a few of Plaskow's ideas and discuss them with members of our congregation!"
Marty Jacobs offers - "The presentation will focus on a book written by Rabbi Ira Stone, called "A Responsible Life," which has a chapter on revelation as viewed from a Mussar (Jewish Ethics) point of view. It will also include some universalist concepts from Emmanuel Levinas, a 20th century Jewish philosopher who has guided much of Rabbi Stone's thinking."
Rabbi Alanna explains "I will discuss the world famous Rabbi Abraham Joshua Heschel, both a theologian and social activist with Hasidic roots, and how he described what he called the 'mystery of revelation.' This was an event which words cannot spell, which human language will never be able to portray."
Art program: Make a Collage without the Glue! We're celebrating on Zoom, but we can still have some fabulous "arts & crafts"!! Take your artistic expression into the virtual world! Come create an online collage to reflect on and continue your Shavuot night of learning. Suzanne Caster will walk participants through how to select and insert images, add weblinks to various media sources, and add your own typed comments. When finished, participants will have a link they can share with family, friends and social media so that others can enjoy their creation! Google Account needed, Basic computer skills recommended. Click here to see an example of what you might create! Questions or concerns? Just reach out to Suzanne - suz.caster@gmail.com
Musical program: Join Rabbi Alanna and Andrea Jacobs and add you voice to other voices in our community and continue your Shavuot night of learning through music . We will explore revelation and the experience of receiving Torah at Mount Sinai through song , chant and nuggim.
The program takes place remotely via Zoom. Click here to register. Questions about it? Please contact Manny Rosenberg, Adult Ed chair, manor72@verizon.net.