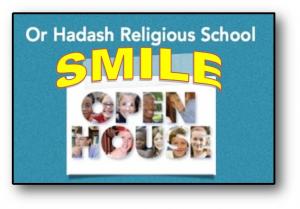 SMILE School OH!pen House - Sunday, May 15 from 9:00 am-12:30 pm
For parents and children seeking a fun Jewish education. This is not a 1960's Sunday school! It's welcoming, modern and engaging. Students will try the school on, parents will get time to meet with other parents and SCHMOOZE. Preschool activities for the younger kiddos. Our Education Director will answer ALL of your questions. Click on the file attachment below for an event flier.
Or Hadashers - Tell your friends and family!