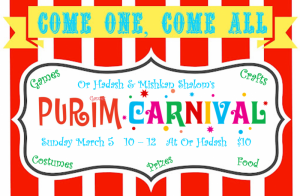 Or Hadash & Mishkan Shalom's Purim Carnival Extravaganza - 10am-12pm* at Or Hadash
Games, Crafts, Prizes and Refreshments and all around SMILES & FUN
Admission: $10 per child. Children of all ages and abilities are welcome.
Invite your friends and family!
*Volunteers needed to help set up the carnival, staff various booths, as well as to clean up. Please let Rabbi Erin know if you can help out.
Please click on attached file for event flier.