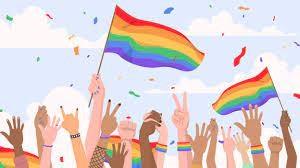 Join us for our 2nd annual Pride Shabbat at Or Hadash!
Pride Shabbat this year will be celebrated in two parts:
6:00 pm - Family Glitter Pride Celebration (outdoors at Or Hadash)
Wear your most fabulous rainbow outfit (or whatever clothes make you your most comfy and authentic self) and get ready to sing, dance and celebrate the gender diversity of ALL of our Or Hadash families!
Come early and picnic at 5:30pm, before our celebration.
7:00 pm - Shabbat service with guest speaker (on Zoom)

As part of the 7:00pm service, join us for an educational and enlightening program with Morgan Selkirk, DEI Educator, Activist and Chief of Staff for PA Representative Ben Sanchez, HD153. Morgan will be discussing the current PA Legislative Climate surrounding LGBTQ+ issues, bills currently introduced or in the process of being introduced in the PA state legislature, LGBTQ+ youth needs, and the importance of allies and what members and allies can do to help.
Please click here to register for the service and speaker. After registering, you will receive a confirmation email containing information about joining the program.
Questions? Contact Wendy Elliott-Vandivier.