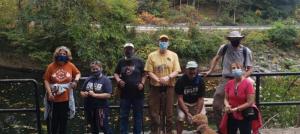 November 28, 2020 - 2:00pm
THANKSGIVING DAY HIKE IS BEING RESCHEDULED TO SATURDAY AFTERNOON, NOV. 28 AT 2:00 pm BECAUSE OF WEATHER FORECAST FOR THURSDAY.
Please note: The hike on Thanksgiving morning location has changed too.
We have revised the hike due to COVID restrictions. We will meet and do the Green Ribbon Trail starting in Ambler. Park at 211 West Butler Avenue (Chef Cooked Meals-church parking lot) or Ambler post office (directly across the street) We will do a loop walk for a nice post-Thanksgiving Day hike for about 2 miles. I would love to see many of you!
PLEASE RSVP to Debbie Levin at dlevin39@comcast.net or 610 955-3300.