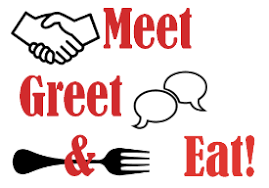 Now that we have hired Rabbi Alanna Sklover, the Rabbinic Transition Committee has planned several "Meet, Greet, and Eat" opportunities. We are hoping to give folks the opportunity to complete the circle and participate in small home-based events and throughout this year we are hoping each member of Or Hadash will avail themselves of a chance to introduce themselves and meet our new rabbi.
These "Meet,Greet, and Eat" events for small groups of congregants (limited to 15) will enable Or Hadashers to join together at one of our member's homes and have some informal conversation with Rabbi Alanna and each other.
• Tuesday Sept. 17 at the home of Lani and Hal Moss (7:00-8:30)
• Tuesday October 22 at the home of Carolyn and Marty Savitzky (7:00-8:30)
• Sunday October 27 at the home of Stefie and Scott Loev (4:30-6:00)
If you would like to attend please click the link here https://www.signupgenius.com/go/10C0A4EAFAE2EA3F49-meet to sign up. We are asking each participate to sign up to bring a dessert or light nosh for the program.
If you have any questions, please contact Lani Moss (lanimoss@comcast.net).