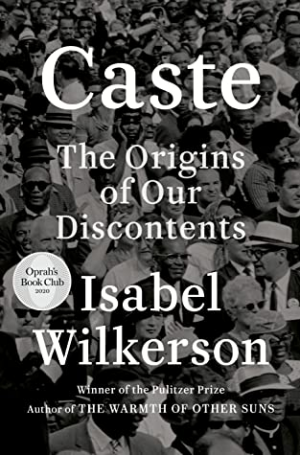 The antiracist study group has begun a new book, so this is a great time to (re)join. This is an opportunity to engage and learn in community about the history and impact of racism. We will also devote a portion of each meeting to discussing next steps forward as community in actively working against racism.
The book we are reading is Isabel Wilkerson's Caste, which focuses on how America today and throughout its history has been shaped by a hidden caste system, a rigid hierarchy of human rankings.
The group meets on Mondays at 7:30 pm every three weeks via zoom. The first meeting was April 26th, but it is certainly not too late to join us.
Subsequent meetings and reading schedule are:
• May 24th Chapters 4-6 (originally 5/17)
• June 7th Chapters 7-9
• June 28th Part 3 through Pillar Number 5
• July 19th Part 3 Pillars 6-8
• August 9th Part 4 Chapters 10-13
• August 30th Chapters 14-18
• September 20th Chapters 19-24
• October 11th Chapters 25-29
• November 8th Chapters 30-31 + Epilogue
To join us, register at click here . For more information, contact Alisa Belzer, alisabelzer@gmail.com .