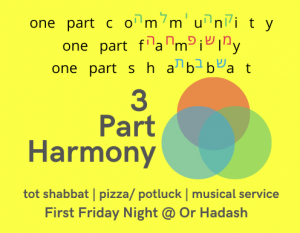 Three-Part Harmony will be held this Friday evening, beginning at 6:00 pm with Tot Shabbat. Then Rabbi Alanna will follow, on the same link, at 6:30 pm with a Community Candlelight & L'Chaim - a chance to come together and light Shabbat candles and share the light and what's on your table and what's in your heart. Join in by using the link which is sent to you in the Daily OH Link Finder email.
The Family Service at 7:00 pm will be led by Rabbi Alanna with Dave Levinson on guitar, live-streamed via YouTube. Use the custom URL link to go to our OH YouTube page. It is on the top of the website pages and then click on the LIVE icon.
Three-part Harmony every month (usually first Friday night) with monthly birthdays celebrated. Tot Shabbat is at 6:00 pm followed by Dairy/Pareve Potluck Dinner at 6:30 pm. The third part is a 7:00 pm Intergenerational Family Erev Shabbat Service. Birthdays are celebrated on the bimah during services and with a cake at the oneg.
Come for 1, 2, or 3 parts!
April 3-Part Harmony Hosted by Kitah Hey/Vav (Morah Carolyn's class)
May 3-Part Harmony Hosted by Prosdor (Moreh Adam's class)