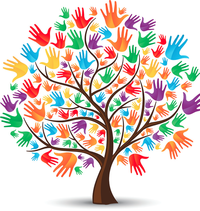 February 22, 2020 - 8:45am
SHABBAT B'YACHAD (SHABBAT ALL TOGETHER) -- FOR ALL CONGREGANTS INCLUDING SCHOOL FAMILIES!
It's NEW. It's DIFFERENT. Come and see, we have been collecting feedback from the whole OH community since last year, we've listened and have made changes. It's going to be fun and FABULOUS!
Eat - Pray - Schmooze… all together. It's Shabbat B'yachad!
Three Saturday mornings each year we come together to mix it up for an intergenerational Shabbat experience for everyone. From 2 to 92, we engage in interactive Torah Study beginning at 9am (bagels @ 8:45am) and then transition into a music-filled service in the round (10am) featuring a hands-on Torah experience opening up our ancient text and inviting us to question and play. We end together around 11:30am with a dairy/ vegetarian potluck lunch & board games for those who wish to linger.
Shabbat B'yachad in 2020:
January 18, February 22, March 14
For January 18:
Parshat Shemot: Encounter the Burning Bush. What makes you burn?
Come and explore with your community… all together!
Questions? Call Barbara Weisman at 215-283-0276 or email school@orhadash.com