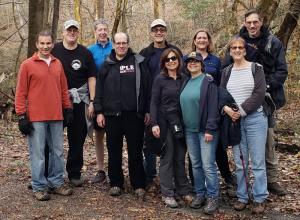 The Outdoor Havurah grew out of an interest in being in nature and exercising out of doors with fellow congregants. We usually have four hikes/walks in local parks, often followed by lunch. The walks/hikes are about 3-5 miles, but we can adjust based on group interest. We are a friendly and welcoming group and hope that you will join us!
Outdoor Havurah will next meet on 1/13 at 1:30 PM at at Valley Green Inn. Ted Apple, a Friends of the Wissahickon Trail Ambassador, will be guiding us. People should wear sturdy hiking shoes. Venue may be changed if there is snow or ice.
RSVP and/or questions to Debbie Levin dlevin39@comcast.net or 610-955-3300.
Look forward to seeing you!