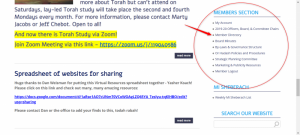 Your 2020 Membership Directory is now available in the members only area of our website.
See the image for exact location of the link. The members-only area of the website is secure, so you will need to log in to view it and all of the other information in this section (contact Nadine if you lost your login credentials).
But, for the most current and up-to-date membership directory, you should be using OHOP (where you can also view your account, make payments, and so much more). Click here for a short video on how to access and use OHOP.