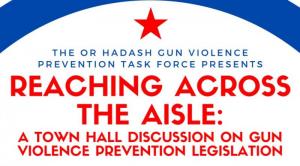 Or Hadash invites the public to a Town Hall on gun violence prevention legislation, presented by the Or Hadash Gun Violence Task Force.
Todd Stephens (R), PA State Representative, 151st Legislative District, and Steve McCarter (D), PA State Representative, 154th Legislative District, will join the conversation, from 1:00 to 3:00 pm. There is no charge for the program and everyone is invited!
Dan Schwarz is the contact.
Please click on the attachment below for an event flier.