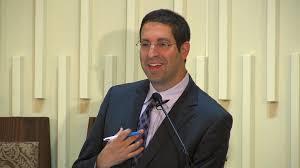 Red States, Blue States, and the Jewish State: The future of Israel, the wider Middle East and America.
Or Hadash presents an exciting and informative talk by Gil Hoffman, the Chief Political Correspondent for The Jerusalem Post.
This event is free and open to the public.
About Gil Hoffman: Gil Hoffman is the chief political correspondent and analyst for The Jerusalem Post. Well-connected to Israeli and Palestinian leaders, he has interviewed every major figure across the Israeli political spectrum, has been interviewed by top media on six continents and is a regular analyst on CNN, Al-Jazeera and other news outlets. Called "The most optimistic man in Israel" by Israel Television, Hoffman provides a
behind the scenes look at the intrigue and humor in the Israeli political arena. He lives with his family in Jerusalem.
Please click on the attachment below for an event flier.