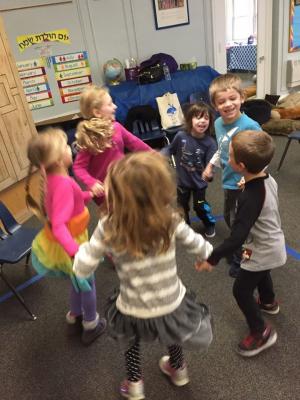 Try a Taste of Gan for FREE for the remainder of this school year!
◆ Sunday, April 7 ◆ Sunday, April 14 (Stay for the Chocolate Seder!) ◆ Sunday, April 28 ◆ Sunday, May 5
◆ Sunday, May 19
9:00 – 11:30 AM
Or Hadash is a warm, inviting, egalitarian community with many lovely families. We welcome EVERYBODY with open arms. If your family is interfaith, you will find wonderful connections within our community.
Children will experience stories, crafts, songs, Jewish values, introductory prayers in a warm and welcoming professional setting. Our wonderful teachers and active, engaged students look forward to greeting their new friends. This is the Jewish value of Hachnasat Orchim or Welcoming Guests. We practice what we teach!
*Open to students entering kindergarten or first grade next year*
Children may be starting a new school next fall, so this is an opportunity to lessen multiple new experiences at once then. Try something new this spring!
If you are not a member of Or Hadash, the following are required:
◆ Fill out paperwork (available upon request) on your child so we can accommodate their needs and get to know them - allergies, pronouns and other information that makes them who they are
◆ Stay on the premises until your child is comfortable but certainly for the first two weeks at the very least. You'll be greeted with coffee and camaraderie!
For more information please feel free to contact: Education Director, Barbara Weisman at school@orhadash.com or Gan Classroom Teacher, Eileen Kupersmith at eskupe@comcast.net
Please click on the attachment below for an event flier.