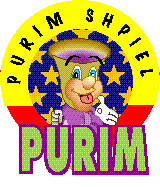 February 25, 2018 - 2:00pm
Anyone interested in participating in the 5778/2018 Purim spiel is invited to contact Debbie DeKalb at sojourner_44@yahoo.com. There are only 2 requirements: (1) You MUST be available on the night of the spiel - Wednesday, February 28, and (2) You MUST be available for rehearsals on most Sunday afternoons during January and February. Rehearsals are usually 2:00-4:00 pm.
NOT REQUIRED: (1) You do NOT have to be a good singer or even sing at all, and (2) You do NOT have to memorize anything. If interested, please email sojourner_44@yahoo.com as soon as possible since rehearsals will begin this Sunday, January 14.