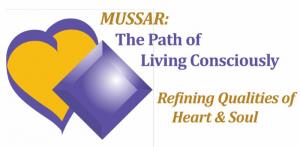 Summer Mussar will be taking place for the eighth consecutive year at Or Hadash. These biweekly sessions are intended to be both maintenance for ongoing Mussar students as well as an introduction to Mussar for new students. This summer we will again be studying Alan Morinis' "With Heart in Mind," a book which describes many methods for changing our behavior to reflect a more mindful consideration of others. For those who wish to read ahead, we will start with Chapter 19 where we left off last summer and cover two chapters each class. The book is available from amazon.com for $15-20.
The sessions will take place in the Rabbi's Study from 7:00-9:00 P.M. on every other Tuesday, starting July 3. The dates are 7/3, 7/17, 7/31, 8/14, and 8/28. No prior Mussar knowledge is needed, and attendance is not necessary at all sessions to benefit from the program, since each session will be "stand-alone." Walk-ins are welcome, so no advance registration is required, and there is no fee for the course.
Please contact Marty Jacobs (martin.jacobs@verizon.net) or Scott Crespy (screspy@verizon.net) if you have any questions.