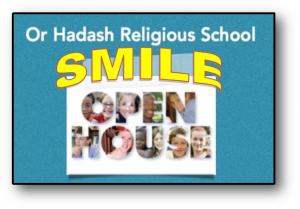 ANNUAL SMILE SCHOOL OPEN HOUSE
The Or Hadash ANNUAL SMILE SCHOOL OPEN HOUSE and Chocolate Seder will be on Sunday, March 25 from 9:00-12:30.
Know a family that would benefit from being in a warm, welcoming environment like ours?
Families that want their children to LOVE and LEARN being Jewish?
Invite them to check us out on Sunday, March 25th.
Questions? RSVPs? (desired but NOT needed). Contact Education Director, Barbara Weisman at
school@Orhadash.com
.
CLICK on the attachment below for the flier. If you want to hand it out and/or post as you are able, please do!
Chocolate seder begins at 11 am in the sanctuary. Everyone is invited!
Thank you for your partnership in growing our wonderful school!